Forum Elite
Established Member
Joined

Mar 12, 2011
Messages

13,882
Location
AMELIA, Ohio — An Ohio woman who found her teenage son's cremated remains in a plastic shopping bag inside an urn is talking about how she's upset with the Kentucky funeral home that handled the ashes.
Nancy Bronner, of Amelia in southwestern Ohio, said she was disgusted to open her son's urn after his death last September only to find his ashes tied up in a Wal-Mart bag.
"I don't care who you are; it's not right to put a human person's ashes in a Wal-Mart bag," Bronner told WCPO-TV.
"It is still disrespectful," said Bronner, who is considering filing a complaint with state authorities. "You don't do that to a parent who has lost their child. You don't do that to anyone."
Her son, T.J. Mitchell, died at age 17 of a heart condition. Bob McDaniel of McDaniel Funeral Home in Dry Ridge, Ky., said that the family had asked him to divide the ashes in four containers that didn't seal and had no bags, so he used what he had.
He said he cut the bags so they didn't show any store name or logo. Bronner says it was recognizable as a Wal-Mart bag.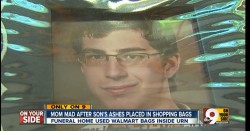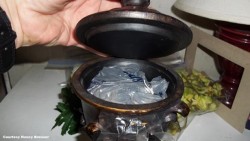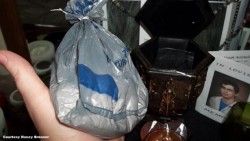 http://www.huffingtonpost.com/2013/...son-tj-mitchell-in-walmart-bag_n_3843632.html