Russian tourist boat "Bulgaria" sinks on the Volga river, more than 100 feared dead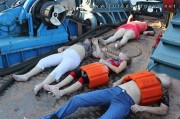 Stiff corpses pulled from the water. Graphic photo. Click to enlarge.
More than 100 people, many of them children, are feared dead after a tourist boat sank in central Russia.
Dozens were rescued after the accident on the River Volga in Tatarstan, about 750km (450 miles) east of Moscow.
At least six deaths are confirmed, but reports say divers have seen numerous bodies inside the sunken vessel.
At least 199 passengers and crew were believed to be on the Bulgaria, which was sailing from the town of Bulgar to the regional capital, Kazan.
Hopes of finding survivors faded as rescuers worked through the night.
Bad weather, mechanical failure on the aged craft and overcrowding have all been cited as possible reasons why the boat sank.
http://www.bbc.co.uk/news/world-europe-14099637