A 22-year-old Virginia woman earlier this year admitted to the cold-blooded kidnapping and execution of a 20-year-old man whose body was dismembered and discarded in black trash bags. Bronwyn C. Meeks pleaded guilty to more than 30 criminal charges, including counts of first-degree murder, murder by mob, abduction, and concealing and defiling a corpse in the death of
Dylan D. Whetzel.



Bronwyn C. Meeks, 21 yo

Whetzel's remains were discovered concealed in four large black garbage bags in a wooded area of Spotsylvania more than a year ago on Feb. 1, 2021. Whetzel had reportedly been shot in the head several times — and at least five times total — before his body was chopped up and placed in the bags. Meeks was arrested soon after the body was discovered along with two co-defendants, Dominic Samuels and Brennan Thomas, both of whom are 19. As a group, they faced a total of 85 criminal charges.


Bronwyn C. Meeks on Friday pleaded guilty to killing Dylan D. Whetzel, who was shot several times, dismembered, and stuffed into several trash bags.
lawandcrime.com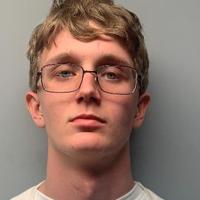 Dylan D. Whetzel was killed by multiple shots to the head before his dismembered remains were recovered in a Spotsylvania County forest earlier this year, according to evidence presented in
starexponent.com