Hey there!
I'm a college kid and quite frankly, I like to think about getting used in any way possible and then being disposed of to please another male.
I'm submissive as all living hell and just want someone to express these ideas with. This would be completely textual and stay online of course. But please, tell me how you'd have your fun and how you'd murder the shit out of me. Don't spare any details.
And when I say do anything you want, I mean it.
Let me know if you're interested!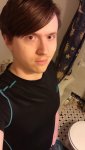 Here's a pic of me to base things off of