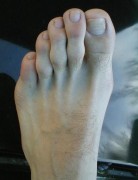 Feet have been revealed to be the least appealing part of human anatomy by neuroscientists studying the links between sex and the brain.
A study conducted jointly by Bangor University and the University of Witwatersrand in Johannesburg found that feet were the lowest ranked of all 41 body parts in terms of sexual attractiveness, closely followed by kneecaps.
The results, which debunked the commonly held theory that the feet have a sensual connection to the genitals, were published in neuroscientific journal Cortex.
http://www.dailymail.co.uk/femail/a...oscientists-partial-sexy-shoulder-blades.html