Joined

Apr 22, 2014
Messages

92
Location
Chapter 1
The moon was full and the forest surrounding Lake Adonis was peaceful. It was early July and even though the sun had set it was still absolutely boiling. Jack and Ali hiked through the woods, it was late and they had been walking all day, their young, strong bodies were tired and both hunks were drenched in sweat. Ali and Jack were friends from the gym. Ali was a 22 year old personal trainer, he had, light brown hair, gorgeous blue eyes, a golden tan and a perfect gym sculpted body. Jack was 18, a complete stud. He had blonde hair, a golden musclebound body and was very well hung. He had recently graduated and had been the all star quarterback on the football team.
The two meaty jocks were making their way to Camp Muscle Pines, a summer programme for young gay male athletes looking to up their game and become sporting heroes. Ali and Jack were due to be counsellors and assist in the fitness training programme, however they had set off early to enjoy the beautiful countryside and camp along the way.
Jack had resorted to walking in the skimpiest black shorts imaginable, with everything else stuffed into his backpack. His young muscles glistened in the moonlight, his chiselled abs looked gorgeous and his thigh muscles bulged in all the right places.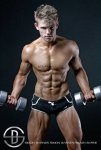 Jack realised that Ali had stopped and wheeled round to see the beautiful hunk had stripped off his tight baby blue tank top vest and now stood with just his revealing Calvin Klein briefs and a stylish beanie hat.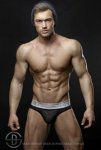 Ali had unpacked the sleeping bags and had just finished making a small campfire. 'Take those slutty little shorts off you muscle bitch' said Ali whilst smiling at Jack, 'And let me see that big Quarterback dick'. Jack didn't need to be told again, he ripped the little shorts clean off his body and tossed them aside. He stood before Ali in his white Calvin's, bursting at the seams with his mammoth young dick. Jack started to put on a show, flexing his biceps and rubbing his large young pecs.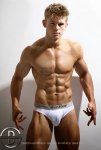 His hands roamed down his rippling abs and he fondled his growing bulge. Ali proceeded to pull out his thick golden 10" cock and began pumping his big dick. Jack continued the strip tease and turned around so that Ali could see his bulbous golden glutes jutting out over the top of his underwear; he peeled them off slowly whilst gyrating his hips back and forth. When Jack turned around his massive 14" dick was standing to attention and oozing pre-cum. Jack threw his head back and moaned as he started to pump the magnificent shaft. Ali crawled towards Jack on all fours; he looked up at the golden quarterback god and took it all in. His big blue eyes made contact with Jack's and he opened his hot wet mouth to take all 14 inches of the jock stallion. Ali sucked dick like a pro, he made sure to keep eye contact with Jack, the handsome stubble on his face coated with saliva, his golden biceps flexed as he pumped the massive dick. Ali arched his back and wiggled his bubble butt round like a dirty whore.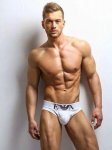 Jack flexed his massive biceps as Ali continued to suck his dick, he began to pump his hips and fuck Ali's gorgeous face. Jack pumped harder and gripped the back of Ali's muscular neck, all 14 inches of his thick cock were sliding down his throat, Ali was gifted with the lack of a gag reflex. Jack pounded and pounded at Ali's face, his tanned basketball glutes bouncing around. Ali sucked harder and faster, continuing to wiggle his own golden ass around, he pulled the huge golden wet cock out of his mouth and slapped it against his tongue. This was too much for Jack and he pumped load after load of thick pearly white cum all over Ali's face. Ali guzzled it up hungrily and smiled as he licked the remaining cum off the stallion dick.
Jack fell down panting and climbed into the sleeping bag, his rippling body covered in sweat; he rolled onto his front and let the sleeping bag flop open to reveal his perfect ass. 'I think it's time we got you off' he growled whilst looking at Ali. Ali smiled back and started to walk off behind a tree, 'Just let me take a leak' he shouted over his shoulder.
Meatgrinder seized this opportunity to attack. He had been watching these musclebound pretty boys desecrating his forest with their filthy sex show. Meatgrinder could not stand the sight of such perfect human beauty, the golden skin, the pumped pecs, chiselled abs, bronze biceps and heaving underwear that contained huge pieces of jock meat. Meatgrinder was a 350 pound tub of lard, with superhuman strength. He wore stained brown overalls and smelt of rotting flesh and shit. His face was mangled and didn't look remotely human. Meatgrinder can't remember where he was from, only the fact that he hated these muscle pups that came to the forest he lived in. The only time he was happy was when he was destroying them or eating their juicy protein filled bodies. Meatgrinder lived in an abandoned cabin in the woods, which he had filled with many torture devices and objects to inflict pain. His weapon of choice tonight was a meat cleaver and some rope.
Ali stood behind a tree, holding his semi-erect dick letting piss slosh over the tree trunk. With a free hand he needed his pecs and then flexed both his biceps, letting his dick hang freely whilst he pissed. He couldn't wait to pound Jack's hot muscle ass. Suddenly the smell of rotting flesh hit his nose and Ali wheeled around.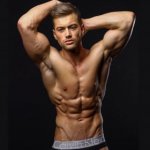 Meatgrinder gripped Ali by his muscular neck so he couldn't scream and raised the muscle stud off the ground with one hand. His chiselled personal trainer body thrashed around. His large ten inch dick flopped from side to side. With his other free hand meatgrinder gripped the razor sharp meat cleaver and swung it up between Ali's legs. The razor sharp edge met with the golden cock meat. Blood poured out of Ali's mouth and his handsome face contorted unable to scream. Meatgrinder let Ali fall to the ground as blood oozed down his pecs and abs, He put his rotten fingers in Ali's eye sockets and mashed the baby blue eyes into his skull and then proceeded to squeeze his head, mangling his gorgeous face until his head exploded against the tree.
Meatgrinder was distracted from his kill, by Jack. 'Hey Ali you big stud, what's taking you so long?'
Meatgrinder gripped the rope in his hand and made his way to the next jock stud. Jack was still in the sleeping bag, which was way too small for him, but all his muscles were packed in. The sleeping bag had been zipped up as the night had become colder and Jack had repositioned the sleeping bag next to the fire.
Meatgrinder acted fast and tied the rope around the top of the sleeping bag, forcing Jack's head down so he couldn't see. 'Hey Ali cut it out!' As meatgrider secured the rope he picked up the big stud in his sleeping bag cocoon. He was wiggling around frantically trying to free himself. His big golden muscles bulged and squashed into each other. His big cock had tented and made a massive lump on the outside of the bag.
Meatgrinder was not surprised this Jock cunt was difficult to pick up, he had seen him thrusting his perfect golden body around and stripping off hi tight clothes. It INFURIATED him. Meatgrider swung the sleeping bag into the tree with such force; Jack didn't know what hit him. He screamed in agony, the wind knocked out of him. His insides had started to bleed inside, some of his ribs had broken and blood was oozing out of his mouth. The next blow came as the hunk stuffed sleeping bag slammed into the tree. Meatgrider made sure to hit some branches this time. Jack's huge golden muscles slammed into the tree, the sleeping bag punctured by the sharp points of the branches. Jack screamed as his big meaty pecs were impaled on two sharp branches and then ripped clean away. Blood was oozing out of the sleeping bag after only two blows and still meatgrinder continued to swing. His next blow punctured Jack's perfect abs and shredded them down the middle, his steaming guts started to pour from his body and Jack was now barely alive.
The next blow never came and Jack could feel a swinging sensation. Meatgrinder had tied the sleeping bag over a low hanging branch above the campfire. Jack could smell smoke and could barely breathe. He screamed as loud as he could but smoke filled his lungs, His golden stallion quarterback legs were on fire the material of the sleeping bag had burst into flame and the guts which had pooled in the bottom were boiling. The bottom of the sleeping bag ripped open and the golden quarterback fell onto the roaring campfire dead. His big strong musclebound body destroyed.
Meatgrinder returned to Ali's corpse and dragged him back to his cabin, taking with him the personal belonging of the dead jock hunks. He let the fire burn out and scattered the remains of Jack's cooked body around the forest for the animals to feed on. The meat Ali would provide would last meatgrinder a few days but he would need to find a new meat supply soon.
As luck would have it more muscle jock counsellors would be visiting Lake Adonis soon…