A Canadian minister has said he has "no doubt" that a deadly storm in British Columbia is linked to climate change.
Thousands were evacuated after an "atmospheric river" - a long strip of moisture in the air that transports water from tropical areas towards the poles - dumped the region's monthly rainfall average in 24 hours.
The storm severed road and rail links and caused mass power cuts.
One person was killed in a landslide, and at least two others are missing.
Mike Farnworth, the local minister of public safety, told reporters he had "no doubt these are climate-related events".
The impact of climate change on the frequency of storms is still unclear, but we know that increased sea surface temperatures warm the air above and make more energy available to drive hurricanes, cyclones and typhoons. As a result, they are likely to be more intense with more extreme rainfall.
The world has already warmed by about 1.2C since the industrial era began and temperatures will keep rising unless governments around the world make steep cuts to emissions.
The extreme weather in Canada comes days after world leaders met for the COP26 climate conference in Glasgow.
The same region, British Columbia, suffered a record high heat wave in the summer that killed more than 500 people, and wildfires that destroyed an entire village.
The provincial minister of transportation, Rob Fleming, told a news conference that it was the "worst weather storm in a century".
All 7,000 residents of Merritt, about 120 miles (193km) north-east of Vancouver, were ordered to flee their homes on Monday. Snow fell there on Tuesday, and cars could be seen floating in icy flood waters.
Helicopter crews were also sent to the town of Agassiz to rescue about 300 people who became trapped on a cut-off road.
The rains and winds had largely finished by Tuesday afternoon, but several communities remained stranded.
Residents of some neighbourhoods in the city of Abbotsford were told on Tuesday to leave immediately as rising water levels posed "a significant risk to life".
In a press conference on Wednesday, Mayor Henry Braun said water levels in the nearby Fraser River were dropping but warned: "We're not out of this yet.
"If we have another weather event like we just went through, we're in deep doo-doo," he said.
Rescue operations are still under way in the area, and aerial assessments of the damage are being conducted.
The Royal Canadian Mounted Police (RCMP) confirmed on Tuesday that one woman was killed in a highway landslide near Lillooet, about 250km from Vancouver.
Motorist Kathie Rennie told CBC News she saw the landslide come down on traffic that was already at a standstill.
"I just turned around, and I'm just watching the whole side of the mountain coming down and taking out these cars... everything just being swept away. Just complete panic," she said.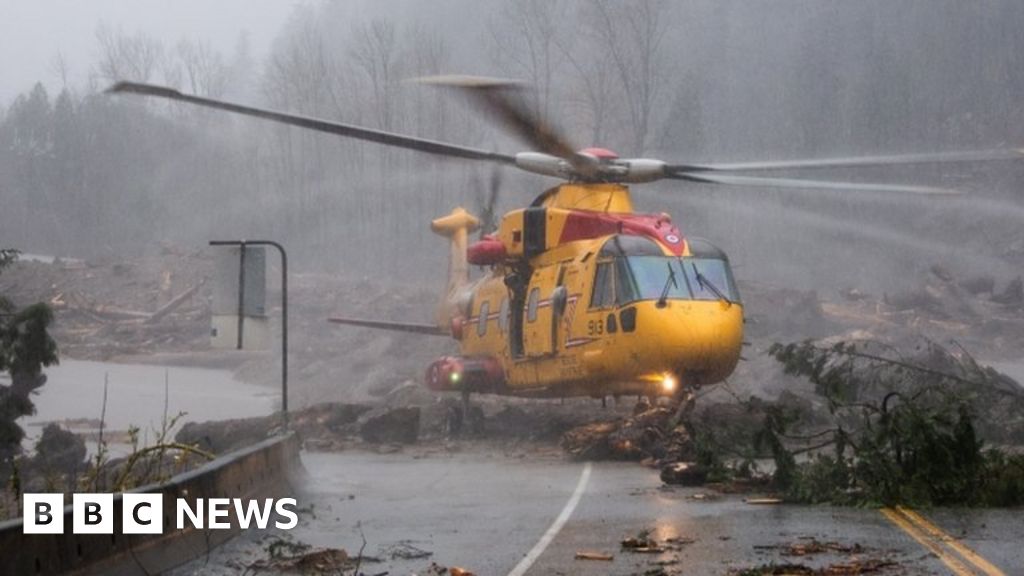 A major clean-up is under way in British Columbia after a major storm that cut off Vancouver.